Coaldale 2019 chamber awards
Posted on July 6, 2021 by Sunny South News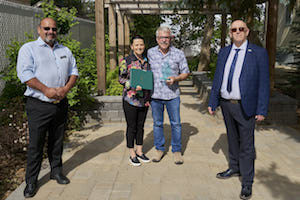 Photo submitted
By Laura Balanko-Dickson
Sunny South News
They're better late than never!
The Coaldale and District Chamber of Commerce handed out awards for 2019. Due to the pandemic, the awards ceremony was cancelled.
This year, the chamber handed out awards to the 2019 recipients. Business of the Year for 2019 went to Dennis Overweg, owner of Dennis' Dirtworx. It all started in 2009 when Dennis Overweg started a small business with just a mini-hoe. As a general excavation company based out of Coaldale, Dennis' Dirtworx has grown to over 100 employees, many of whom reside within the district of Coaldale. With clients expanding into neighbouring provinces, Dennis' Dirtworx provides great exposure to the Town of Coaldale.
Dennis' Dirtworx excels in its dedication to the community, as evident in the many contributions made over the past 10 years. Not only has the local business donated equipment and labour to all the playground upgrades in town, the business has also contributed to various non-profit groups — whose focus is on community enhancement.
"Overweg received this award because of his courtesy, knowledge, good business ethics, exceptional customer service and participation in the community through non-profit groups," the chamber stated.
The 2019 Citizen of the Year went to Blair Frache. Frache was named the 2019 Citizen of the Year because of his significant contributions to Coaldale, participation in community activities, living in the community and involvement in community service. Blair is husband to Janet and father to daughter Amanda and son Kyle. He is a grandfather, brother and uncle — and is a friend to many. He attended R.I. Baker and Kate Andrews schools in his younger years and has worked and lived in the community for most of his life.
Blair possesses a keen sense of what is important to building a great community. He enjoys taking part in activities with fellow residents and takes pride in seeing Cottonwood enjoyed by so many new homeowners and their families. His good nature, generosity and belief in giving back to a community are reflected through his 35 years of volunteering with the Kinsmen Club of Coaldale. He also takes part in and supports many other community organizations and causes.
Athletes of the Year for 2019 went to Ron and Sharon Chmielewski. The Chmielewskis received their respective awards for their high level of skill, performance, dedication, leadership and passion for sports — as well as a commitment to respect, fair play and ethical sport.
Ron has been involved with sports in Coaldale his entire life and has been a role model to the community, both young and old, for many years. He has mentored many young athletes in various sports through his coaching and teaching career and he has personally earned competitive medals for slow-pitch and track and field events. In 2019 alone, Ron was awarded a Huntsman World Senior Games Slo-Pitch Silver medal, Alberta Provincial Championship Masters 60+ gold medal in Hammer Throw, silver medal in Shot Put and silver medal in Javelin. He also set the Alberta Provincial Champions Masters 70+ Weight Throw record and was the Canadian Masters bronze medal winner in the 70+ Shot Put.
Sharon has been a part of Coaldale's sports scene for over four decades in the capacity of instructor, coach, official and athlete. She has been involved with youth, men and women leagues in curling, slow-pitch and softball, has coached high school volleyball and has competed in track and field events winning medals in numerous disciplines at the Canadian Masters. Sharon continues to be an ambassador of sport in Coaldale and her dedication to sports has touched many lives in this community.
Community Artist of the Year for 2019 went to Terry Anne Wilson. Wilson received this award because of her demonstrated integrity, inclusiveness, co-operation, respect and drive for excellence in arts and cultural advancement. Moreover, she is involved in a cultural group organization in Coaldale, developed personal growth and promoted a positive image for the Coaldale arts community. Terry Anne is a writer, published author of two books, successful blogger, speaker, workshop host and traveller. After graduating from Kate Andrews High School and leaving her home in Coaldale, Terry embarked on a worldwide tour that has continued to this day. Experiencing life living in nine different countries, Terry has fulfilled her passion to write and to also share her joy of writing with others from around the world. Terry is a role model to all local aspiring writers and artists.
Last, but certainly not least, is the Youth Citizen of the Year award for 2019.
The recipient of the award for 2019 was Kristin Isleifson. Kristin received this award because of her high level of integrity, inclusiveness, respect for others and a well-executed initiative for community improvement. A member of the 3rd Coaldale Venturer Scouts, Kristin continually takes a leadership role in all aspects of community life. She has stepped up many times to support her fellow scouts, including starting the annual Coaldale Christmas Skate Bake Sale to raise money to assist a fellow scout battling cancer. Kristin continually strives for self-improvement and challenged her Advanced Level Wilderness and Remote First Aid, and she recorded the highest grade of the class beating out adults. Kristin also volunteers for many community events such as Remembrance Day and Community Fest.