Picture Butte Fish and Game celebrates 65 years in 2017
Posted on January 10, 2017 by Sunny South News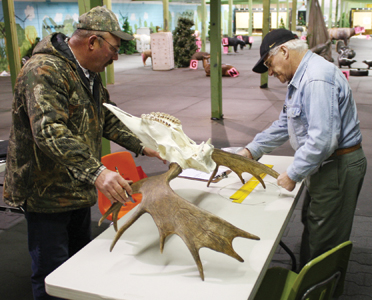 By Stan Ashbee
Sunny South News
Believe it or not, 2017 marks the Picture Butte Fish and Game Association's 65th anniversary. Each year, the club puts on a measuring night followed by a dinner and awards ceremony in January.
"We started in 1952. This is our 41st annual supper. Most of the people that come to the supper were not even alive when the first supper happened," joked Leeon Hage, hunting chair.
Last Tuesday evening, the club held it's annual horn measuring night.
"Traditionally, it's always the first Tuesday of the New Year. We measure all the horns and take all the entries for all the fish, for the birds and also for the photography contest. We take all that and compile it all and add it up," Hage explained.
According to Hage, the dinner and awards ceremony is scheduled for Jan. 28 and will be held at the Elks Hall in Picture Butte with a start time of 6 p.m.
"We also sell our supper tickets here and traditionally we have sold out on this evening," said Hage, last week at the measuring night event.
Membership numbers are good, Hage noted.
"It seems like provincially and nationally hunter numbers are up. Youth hunters and female hunters are two of the biggest demographics we have noticed, as far as the statistics when you look through the Alberta website for licensing," he said.
" Basically, the numbers are up. They've been gradually going up and up and up. I don't know if it's a combination of what we're doing or provincially or what have you, but stuff is happening," he added.
"And it's growth — lots of growth."
Hage added the club celebrating 65 years almost slipped through the cracks.
"We do have a few special things we've got planned for the 65th. Last year was our 40th annual supper. This is our 65th anniversary of the club," he said.
Conrad Sinke, just celebrated his first year as president of the club and prior to that was vice-president for a year. The club held elections during the measuring night event.
"I've been a part of the club for about four years now," he said.
Sinke said he really enjoys being a part of the club and a lot people come together and help out.
According to Sinke, he started hunting about eight years ago.
"I always looked at the club and was interested in coming," said Sinke.
Sinke remains as the president of the club this year and vice-president is Jim Van Bezooyen.