Winterize RVs before the snow flies
Posted on September 27, 2016 by Sunny South News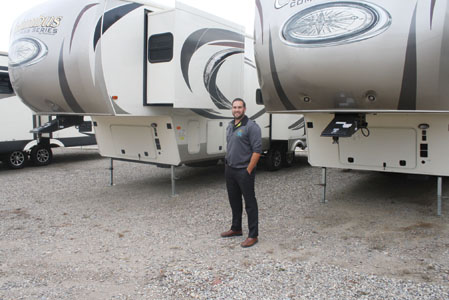 By Stan Ashbee
Sunny South News
To winterize or not to winterize the family RV before the first big snow storm hits?
Winterizing is a good idea for RV owners and the winterizing ritual has kicked off for many local southern Alberta camp enthusiasts.
"We're just moving full force now. We have anywhere from one to eight a day," said Chase Oliver, red seal journeyman technician and service manager at Prairie Sky RV in Coaldale.
With an hour notice, Oliver noted, customers can stop by to winterize their beloved family camping unit by professionals.
"And, you're out the door," he added.
A lot of farmers, when they start doing harvest, don't want to think about winterizing their RV, so they get in early to get the job done, according to Oliver. "They usually come out early and teachers," he said, as school occupies their time once the new school year hits.
One of the biggest things, Oliver explained, is flushing out the RV's system — the fresh water, with antifreeze and draining the RV's tanks.
"If you're going to do it yourself, if you're going to blow it out with air or anything like that, make sure you get all the outside showers and the city connections and the sewer flushes," he said.
Packages are offered through Prairie Sky, which make winterizing easy for the RV owner.
"It's our basic winterizing," he said, adding the package includes two-gallons of antifreeze and RV techs will look after the winterizing process for customers.
Winterizing for the business is pretty steady, Oliver said, and even with the economy the way it is — southern Albertans are still out camping and need to prepare their outdoor units before snowfall.
But, there are the odd lone wolf-like camping enthusiasts who choose to do the work themselves.
"They usually show back up in the spring with a frozen line," Oliver said.
Oliver's words of advice is not to wait too long to winterize RVs.
"Get it done quickly. I recommend taking to a certified shop to do it because there's always going to be that line you forget or that valve you forget to turn," he said.
For the 20 minutes it takes to bring it in to a service shop to get winterizing done by a professional, Oliver added, it might take an RV owner four or more hours to do the job.
"At least it's done properly and the illness is on us," if it is brought in, Oliver said.
If you are going to go venture out into the deeper season in the great outdoors, Oliver said, he recommends draining applicable parts of the RV.
"Most RVs are insulated but they're not going to be a four-season trailer. I recommend dropping your freshwater out of your freshwater tank and opening your low points in the evening, so if it does freeze, it does have room to expand and exit the RV without expanding to a dead end and cracking a line," he noted.
This RV-ing season was a bit slower than usual, Oliver said. "I think the economy had a lot to do with that this year. We had a lot more people servicing their trailers — repairing or upgrading or re-doing their roof or stuff like that, as opposed to buying a new trailer."
Oliver added Prairie RV also has a full-service centre with certified technicians. "We'll do everything. We'll do insurance jobs," he said, adding that's what the business does in the winter time — full-service work or insurance work. "To keep us alive because if there's not many retail customers coming in," he said. Insurance work includes hail damage, trees falling on an RV or from accidents.
"Anything insurance-related, we pretty much do everything. Full-structural rebuilds of walls, roofs and floors," he said.
Oliver also noted the business started a rental division this past year.
"We have four trailers and one motorhome. We're looking to expand and possibly double that for next season. It's kind of an untouched market in southern Alberta that we're hoping to capitalize on. And with the economy again the way it is, a lot of people don't want the big payment to use it once or twice, so it's a great alternative," Oliver said, adding there's even rent to own available.
"You rent it and if you like it, we'll take a portion of the rental fee and put it towards the new trailer," he said.
Oliver said people start looking for RVs at a big RV show in Lethbridge.
"We prep, basically starting in January, we shut down for the month of December and we come back at the beginning of January after the New Year or in the New Year and we prep for our big show. We have 100 units at the Exhibition grounds," he said. "That's in the beginning of February. That's when people start looking."
Last year, Oliver said, with the weather being so nice, Prairie Sky started having service customers at that time. "There was no snow on the ground, it was beautiful out," he said. Oliver said the business closes down in September for a bit, so he and staff can winterize all the vehicles on the lot.
Oliver added RV owners need to get out and enjoy camping when the weather gets good each season.
"It's a great thing to do with your family and with friends. Camping is a lot of fun and it can get you to the outdoors," he said, adding first-time campers might even find a passion they didn't know they had.