Lethbridge County updated on RCMP dealings
Posted on June 20, 2018 by Sunny South News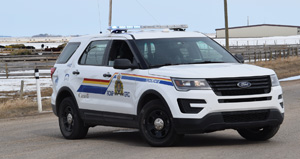 Photo by Nikki Jamieson
Nikki Jamieson
Sunny South News
Two RCMP detachments commanders attended Lethbridge County council to present their quarterly reports.
During their regular June 7 meeting, Lethbridge County council met with Staff sgt. Glenn Henry, of the Coaldale RCMP, and sgt. Tom Howell of the Picture Butte RCMP.
Howell said that the latest development in his area with the rural crime watch association that sprung up in the communities in the northern half of Lethbridge County.
"There are other crime watch associations in the area, but that was one that, to me, it looked like we were lacking some sort of participation with the community," said Howell. "A number of people have taken on the responsibility of forming it.
"The RCMP, in my capacity, is more of a consultant. I'm not one to be part of it, but I'm there to assist them in any endeavor that they feel that are necessary, from the RCMP."
Howell also reported "fairly consistent policing" over the past five months. There was a decrease in some rural crime — property crime down 36 per cent, break and enters down 46 per cent, auto theft down 75 per cent, mischief to property down 14 per cent, theft from auto down 56 per cent — but that "could be linked to anything", such as more prolific offenders in custody.
Coun. Steve Campbell asked if he noticed any difference in crime rates with the snow gone. Howell said that although he could say statistically, crime is down, it was hard to say exactly what caused the decrease.
"At the moment, it's looking good, but that's not to say it won't change."
Reeve Lorne Hickey said that when they met with the RCMP K division, they didn't receive much information as to when the new RCMP building in Coaldale was going to be built. Henry said that there was a "rejig on one of our specialized sections" in the building, which pushed back the timeline on the building, which is now scheduled to start construction in spring 2019.
"We were hopeful that July would be the let's-get-going date. Now, we're not there," said Henry. "From a policing perspective, we can't give you this building quick enough, and we need it, and we're the biggest supporters of it to get going. Unfortunately, we're like you guys, facing that same wall. Hopefully, it's sooner then later, but realistically, this spring."
Coun. Morris Zeinstra said he remembered when the Picture Butte RCMP building was going to get a new building about 30 years, although he acknowledge that The Coaldale and Picture Butte detachments were different, and asked if the Coaldale RCMP were still working out of the Lethbridge office. Henry said that they currently had an office in Coaldale, which he said was "really a storefront in the town of Coaldale", and they were in the 1955-era Lethbridge RCMP building, where the majority of their equipment and supplies were. Once the Coaldale building is completed, everything would be moved to Coaldale.
"We put up a sign on the site in Coaldale, to let people know that the building is coming. I think we had a lot of concerns about this being a Fort McCleod, is it ever going to make it, type-thing. The resources, the financial commitment is there, the will to do it is there, the need is certainly there; I think we're just caught up in some of the bureaucracy of making it happen. It's going to happen, I don't have any doubts whatsoever."
Touching on Zeinstra's comment of a new Picture Butte building, Howell said that Picture Butte RCMP are not due to get a new building anytime soon, which is what allowed them to complete some expensive renovations on their building.
"The only thing we're missing is a cellblock, which we believe, once Coaldale is built, we'll be utilizing their cellblock for any type of prisoner capability capacity," said Howell. "But at this point, I was informed that there is no new building being planned for Picture Butte, and that's why they let me send a lot of money on renovating. And it is a nice building, what we've got set up now."
Although they did have a cellblock, "a couple decades ago", that space was turned into an interview room. Picture Butte RCMP are currently utilizing the Lethbridge Correctional Centre for prisoner capacity, as does Coaldale RCMP.
Henry touched on employee wellness as a priority. To improve on that, he said they were looking at areas in the detachment to try to increase the well-being of it's members through necessary equipment.
"As an example, we just purchased a fairly expensive breaching kit, that allows us to access buildings. So we have a school shooter situation, we have the tools now to force entry into places. If we're doing a search warrant, we have to tools to do that," said Henry.
Other priorities were decreasing property crimes through increased police presence in communities and the Habitual Offender Management – Crime Reduction Strategy. Picture Butte RCMP's priorities closely mirror Coaldale's.
Henry also reported that the K Division have initiated a Call Back Unit. Calls are rated by priority, and instead of detachments dispatching members to lower priority calls, such as reporting a lost passport, a member of the Callback Unit would be calling the person back and walk them through the process of reporting it.
"The theory behind the Callback Unit is it should alleviate some of the workloads on our members right now, to give them more of a chance to get out on the field," said Henry. "It's a pilot project, it's something K Division is certainly monitoring. They are taking those calls from us right now, so we're starting to get that starting to happen. We are looking at more intelligence-led type policing, were we're trying to get our guys out n the road more, and not be as administrative."
Howell spoke about a new ticketing system, E-Ticketing, that they're officers are doing. The system allows for officers to write tickets on their computers in their cars, print them off, people sign them and they get sent straight to the courthouse. This is more efficient then issuing paper tickets, which have to go back to the detachment office to be sorted and then be sent to the courthouse.
"Believe it or not, it actually encourages the officer to be out there more to do these things, and I've been seeing an upswing in the amount of enforcement due to that new process," said Howell. "There's different ways we're working as an organization to get us out there more, and spend less time in the office, doing paper, sorting, so on and so forth. I see good things going forward, it's just going to take some time to see the actual results, with any new system in place."
Henry paid a nod to the county peace officers, who he said were very helpful and critical especially when they had to attend some major collisions.
"When we're running with three or four police officers, and they show up as a fifth or a sixth, that's really helpful to us," said Henry. "In my detachment area, we've had a number of near misses. One on (Highway) 845 and (Highway) 512, where a semi truck was struck by a lady who blew a stop sign on 512, it could have been a fatality quite easily and somehow wasn't. Just this past weekend (June 2-3), we had a person pull out of the Coalhurst intersection on Highway 3 and struck broadside, and those could be fatalities.
"We're high risk in this area with these major highways, and I hope we don't have the number of fatalities as last year, but, the recipe is always there. Having the Community Peace Officers assist us is really an added bonus. So thanks to the county and thanks to them for their assistance."