Senior curling championships
Posted on February 24, 2016 by Sunny South News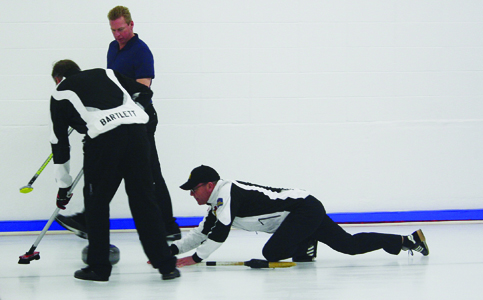 By Stan Ashbee
Sunny South News
Alberta seniors hurried hard last week in Coaldale at the Granite Club, during the 2016 Tim Hortons Alberta Senior Curling Championships from Feb. 17–21.
Travis Davies, chair of the host committee, congratulated all the teams that worked hard to make it to the event during opening ceremonies held last Wednesday night. "The host committee and volunteers have worked tirelessly to make this event one to remember," he noted.
According to a media release, the best senior men's and women's curling teams in Alberta competed to claim provincial titles and two-time Brier champ, World Curling Champion and athlete representing Canada at the 1988 Olympic Games "Fast Eddie" Lukowich was one of the prestigious guests from the world of curling.
Former Canadian champion skip, world championship bronze medalist, and 2013 world senior champ Cathy King was also in town for the event.
According to the media release, King competed in seven Scotties Tournament of Hearts, taking the gold once and silver twice, and was named to the Canadian Curling Hall of Fame in 2013.
The media release stated — having made eight Labatt Brier appearances earning each of gold, silver and bronze twice; bringing home two Canada Cups, and securing a silver medal curling for Team Canada in Salt Lake City 2002 — Don Bartlett, former lead for Kevin Martin's rink, is no stranger to stiff competition either.
The Alberta Senior Championships, according to the media release, rotate throughout communities in Alberta.
Coaldale Mayor Kim Craig, during opening ceremonies last week, said town council is really appreciative of the Coaldale Granite Club for stepping up and taking the lead to organize the championships and other similar events.
"I hear through the grapevine the Coaldale Granite Club has a very good reputation for putting on such events," Craig said.