Piyami Lodge receives donation for tandem e-bike
Posted on May 10, 2023 by Sunny South News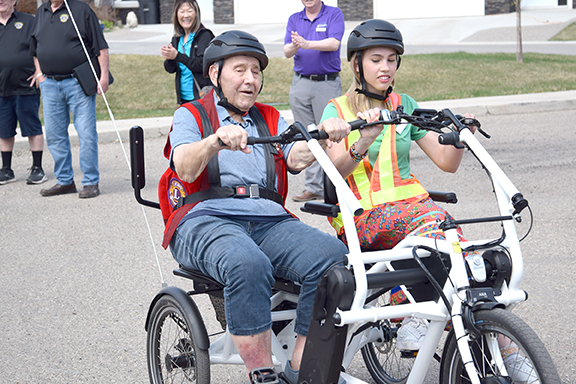 Need for speed: Lions Club member, and resident of Green Acres Foundations' Piyami Lodge in Picture Butte, Frank (left) strapped in for the first of many rides on the Lodge's new e-bike. Lodge staff were trained on how to operate the bike, which will allow residents to get out and enjoy some activity in the outdoors.
By Erika Mathieu
Sunny South News
Residents of Piyami Lodge, a Green Acres Foundation senior living community in Picture Butte, received an exciting new addition on May 5 – a brand new electric tandem bike. 
The CEO of the Green Acres Foundation, Dawna Coslovi, expressed her confidence that the bike will be well-used by the lodge's residents. The tandem bike was donated by the Picture Butte Lions Club and allows for passengers to pedal alongside the driver. Terry Dennis, the manager of Piyami Lodge, greeted the residents as they lined up to take a ride on the new bike. He explained that the bike has three levels of assist, allowing residents to either pedal along with the driver or simply sit back and enjoy the ride. 
The bike, made in Holland, is worth $20,000 and will serve the residents of Piyami Lodge and the people of Picture Butte. The tandem bike is a great opportunity for seniors to enjoy the outdoors and stay active, with the help technology.