Copperheads leading south semi finals
Posted on February 26, 2019 by Sunny South News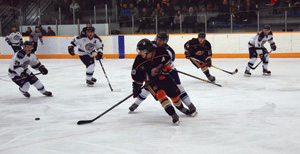 Sunny South photo by Nikki Jamieson
Coaldale Copperheads
The Coaldale Copperheads have had their hands full with the semi finals of the South division of the Heritage Junior Hockey League.
The Medicine Hat Cubs, fresh off a two game sweep in the three game quarter final series against Strathmore, are challenging the first place Copperheads in all facets of the game.
The top two teams in each division (Coaldale and Okotoks) received a bye to the semi finals. The seven game semi final series opened up in Coaldale Tuesday night.
Jedd Horvath opened up the Copperheads scoring in the first period with the Cubs responding with two goals in the second. Jayden Smith scored with only one second remaining in the second period to tie the game at two. Ty Abbott scored late in the third to pull ahead but the persistent Cubs tied it up two minutes later and forcing overtime.
Despite hitting the crossbar and goal posts three times in OT the Copperheads couldn't nail down the victory. Cubs scored on what looked like a harmless long shot that beat Coaldale's goaltender Nolan Berner nine seconds into the third overtime to make it 4-3. Shots ended up 48-43 in favor of the Cubs
Game two was in Medicine Hat Friday night. The first two periods were scoreless, and it took half way through the third when Jayden Bexte opened the scoring for the Copperheads.
Rookie Linden Gouw scored the second with a great individual effort. Jared Bainbridge rounded out the Copperheads offence at 3-0 heading into the last couple minutes of the third when Medicine Hat scored their only marker of the game for a 3-1 victory for Coaldale. Berner played a brilliant game for Coaldale turning aside 39 shots while the Copperheads replied with 41.
The series shifted back to Coaldale Saturday night where another tight low scoring battle ensued.
Brant Mack scored a short handed goal for Coaldale late in the first. The game went scoreless until 2:22 left in the third when the Hat tied it up at 1-1. Riese Nevil with remarkable game effort scored early in the first overtime for the 2-1 victory. After the three opening game the Snakes lead 2-1 in the best of seven. Once again Snakes goaltender Nolan Berner was phenomenal facing 32 shots.
Monday night, Feb. 25, was game 4 at 7:30 p.m. in Med Hat. Results for that game were not available at press time.
Wednesday, Feb. 27, will see game 5 in Coaldale for a 7:45 p.m. puck drop. If needed, game 6 is scheduled for Thursday at 8:30 p.m. in the Hat and game 7 in Coaldale on Saturday at 8:00 p.m.
Winner of the series will play in the league south final in another seven game series. Their opponent will be either Okotoks or Cochrane with after the weekend Cochrane leads the series 3-0.